Welcome to the Davis Piano Studio Blog!!
Why Your Child Should Take Piano Lessons
Friday, October 30, 2020 by April Davis | Uncategorized
Piano lessons were once a standard part of a child's education. Things change and increasingly parents have more choices available to supplement their child's education. Here are 6 reasons why piano lessons are still an amazing opportunity, if not the best choice, for your child.
1. The study of piano teaches your child a practical skill they can always utilize. Your child will be able to teach beginner piano to neighborhood students while they are in high school and expand their teaching while in college. Whether your child chooses piano teaching for their career or not, the option is always there and the pay is better than babysitting or working at a local restaurant or retail establishment. Musicians can also earn money playing for churches and playing gigs at restaurants, malls, and bars.
2. The study of piano can win scholarships for your child to achieve their higher education aims. Working with a teacher who belongs to MTNA (Music Teacher's National Association) and other guilds allows your child to participate in contests to win money and scholarships. Additionally, auditioning for schools can lead to scholarship opportunities. Their are private scholarships available for pianists even if their major is not music related.
3. Piano is the best first instrument to learn. If you have a child who aims to play another instrument, piano is the best place to start. Little fingers can manage piano keys easier than guitar or violin strings. It doesn't require the lung capacity that brass and woodwind instruments need. But, it does teach children to read both music staffs, bass and treble clef, which prepares them to play any other instrument: many of which only utilize one or the other. It also helps them develop finger independence and strength which is key to playing any other instrument. The study of piano also lends itself to music theory more comprehensively than any other instrument. Piano can develop perfect pitch or even something near perfect pitch which can help any musician join in on queue in an ensemble and create clearer tonality in any singer.
4. The study of piano has been proven by neuroscientists to positively impact brain development. These improvements can be seen at any age, but are most effective when started young. It creates more connections between the right and left hemispheres of the brain which leads to faster processing of information, more balanced right/left brain strengths, and ambidextrousness.
Professional musicians have been found to have greater than average gray matter in motor, auditory, and visuospatial areas, differences in white matter architecture, stronger asymmetry of the planum temporale, and increased corpus callosum (Schlaug et al., 1995; Schlaug, 1995; Schmithorst and Wilke, 2002; Gaser and Schlaug, 2003). These anatomical differences are thought to be due to long-term acquisition and training of musical skills. Furthermore, it has been demonstrated that there is a strong correlation between high musical activity during the lifespan and preservation of non-verbal memory, naming, and executive function (Hanna-Pladdy and MacKay, 2011).
5. Playing piano releases endorphins, the hormone responsible for our feeling of joy. It can help pianists work through any emotion and express any feeling. The positive effects on the brain mirror meditation or running long distances.
6. The structure of music teaches your child complex math and raises their IQ. Students of piano score better in Math, Science, and English than their non-musical peers. The language of piano is Italian and Latin roots and pre-fixes which helps with the SATs and other standardized tests.
Now you know how beneficial piano lessons are to your child, let me tell you why Davis Piano Studio is the best place for your child to learn in Round Rock, TX, and the surrounding Austin area! My studio has the most advanced setup in the Austin Area: the best equipment and learning tools, low-stimulus environment, one-on-one support, recording studio, and supplemental technology. All books and supplemental materials are included and provided at key developmental times. The waiting area is in full view of the teaching space and parents are able to attend all lessons. As an instructor, I am fully available to students outside of lesson times. Students do not need to wait until their next lesson if they are struggling with some concept or music piece as I can be reached by text and video call at all times. I have a passion for students with ADHD and ASD. I work closely with parents and therapists to achieve the best results with these students.
Piano Maestro! Your tool to make practice fun!
Thursday, September 3, 2020 by April Davis | Announcement
Hey y'all! New to the studio this semester is a subscription for all students to Piano Maestro, an app available for iPads only. Piano Maestro turns daily practice into a game--guitar hero style!
I've emailed an invitation to each student. Download the app and sign-up with the same email address the invitation was sent to; or, after signing up with a different email address, pick a teacher by typing my name into the box. I'll show up as April Davis in Round Rock, TX. When students are ready to practice, just set the iPad on the piano or keyboard like you would a music book.
Piano Maestro Sections
There are three sections: Journey, Library, and Home Challenge. Journey is a built-in method book of its own. Students can also pick songs on their own from the library and there are tons of songs including pop, country, classical, and traditional songs to choose from! Home challenge is where weekly assignments show up. This will normally include hand warm-up exercises and their assigned song from the Piano Pronto method book. (Yes! The method book we use is included in the app!!!!)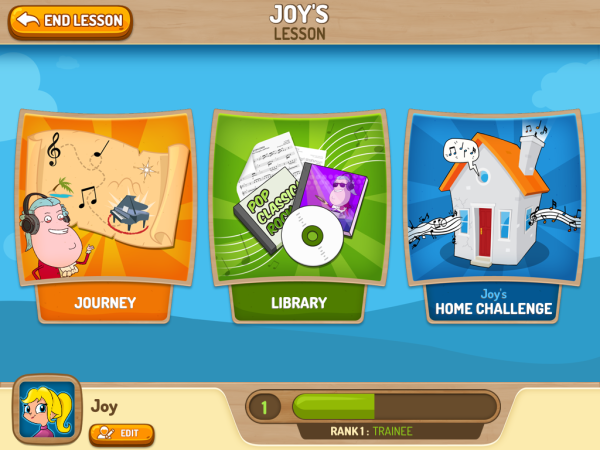 Piano Maestro Library Content
Here's a quick view of the library. You can look at all of the songs or narrow down the selection by choosing a genre and/or a level.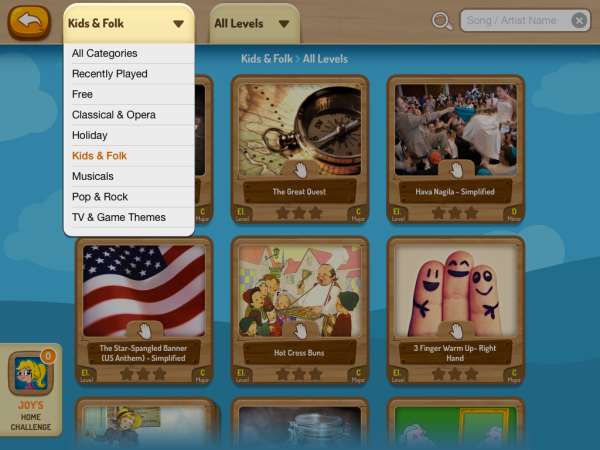 Piano Maestro Home Challenge
When a student views their home challenges, they pick an assignment and select learn. Students can opt to play the keyboard on the iPad screen making this the perfect companion for long car rides, or they can enable the acoustic piano option. The first time they pick the enable acoustic piano option, you'll be prompted the allow the microphone in your iPad's settings. A green key will light up on the app and you play that key on your own piano or keyboard and then the app will progress to the next screen and listen for the notes they play!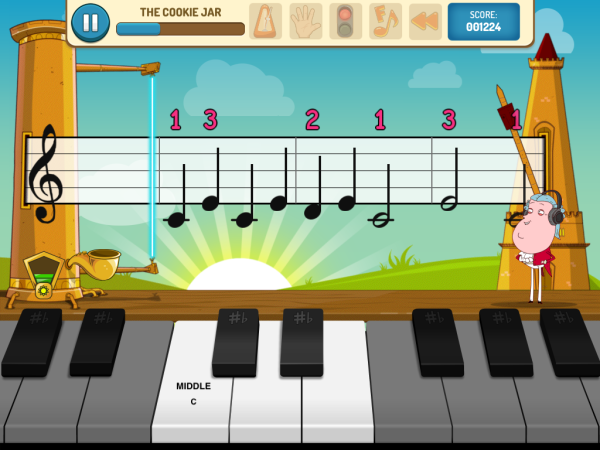 Piano Maestro Gamification
Piano Maestro turns learning into a game! Students play the notes as they get to the blue bar. The app breaks down learning the song into left hand, right hand, and both hand options. It also teaches smaller sections of the song at a time. Students are scored on note accuracy, timing, and assists. If they haven't mastered that section yet, they will get an option to restart. When they have mastered it, they see a next button to progress to the next section! By the time a student completes each section the entire song is learned!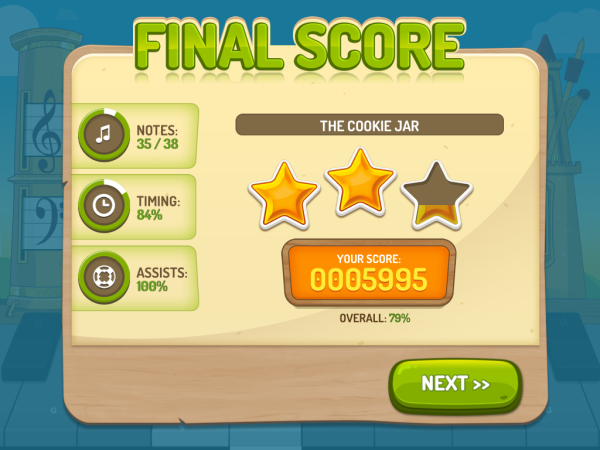 Piano Maestro Student Feedback
Students are loving practice with Piano Maestro!! There's a little bit of a learning curve: reading notes that are moving, playing at a tempo set by the app, accidentally choosing "play" instead of "learn" for a new song. But, these challenges are easily overcome and students are soon hooked! Who doesn't love getting screen time to play a game? Oh, and that game also counts as piano practice time? So fun!!!!!
Piano Maestro Premium Subscription
Davis Piano Studio students have full access to all library items and features because the studio pays for the premium subscription. There will be no accidental purchases while on the app! Happy playing!
Fall Schedule 2020 and Announcements
Tuesday, July 7, 2020 by April Davis | Announcement
Welcome Event
Our annual snack and sip welcome event will be Sunday, August 23, from 3:30-5:30pm. There will be wine, artisanal water, and light hor d'oeuvres. This event will happen as long as the state of Texas is in Phase 3 of the reopening plan or greater. RSVP by logging into the student portal at www.davisrrtx.com or call/text me. All fall enrolled students and their families are encouraged to attend.
Group Ukulele Classes
Lessons will start the week of August 23. Tuesdays and Wednesdays from 4-5pm are reserved for a group ukulele class. There is a group ukulele class for both elementary and middle school students and there are discounts available! Learn more here:
Individual Piano Lessons
Piano lessons are available on Monday, Tuesday, and Wednesday from 9am to 7pm. Lessons can be in studio or online via Google Meet. Students can choose either option at any time. Once you've contacted me to lock in your lesson time, it's yours for the remainder of the school year. It can be changed as long as there is availability. Call or text me at 512-222-7640 to pick out your time! *
Tuition will be due September, October, November, and December. There will be no tuition payment in August. As before, all lesson materials like method books, warm-up books, CDs, etc, are included. In most cases, the student is receiving a full book; however, occasionally the student may receive printed material. There are 16 lessons over the fall semester. We will take a week off for Thanksgiving and conclude December 16.
What's new
I've added a second Roland digital piano! It's brand new with some great features for teaching.
I've added an iPad music theory work station!
Students are encouraged to come to lessons 15 minutes early to utilize the practice piano for warm-up. There is a headset available with disinfectant wipes; however, students are encouraged to bring their own ear buds or headphones with 3.5mm plug.
Students are encouraged to stay after lessons up to 15 minutes to utilize the theory station or spend a little more time on the practice piano to solidify the technique and songs just learned. The theory station has a studio-paid app where each student has a profile and the theory lessons are customized by me. I'm very excited to bring this new benefit to you! This activity also has provided headphones, but the student could benefit from bringing their own.
During this extra time, students are expected to remain respectful of the lesson happening with other students. The pianos and music theory station are set-up at the recommended 6ft distance apart.
*A deposit of $40 is required to hold the lesson time for any student not enrolled in the summer semester. It will be charged to the card on file at the time the spot is booked.
Sars-Cov-2 Response
Luckily, a lot of the recommendations were already in place at the studio! For instance, students wash their hands upon entering and the piano is disinfected between each lesson. All students have the ability to opt for in studio or online lessons.
What's new:
Rainbow Rainmate air purifier*
Additional disinfecting of commonly touched surfaces
Studio rearranged to allow for increased physical distancing
Technology upgrades allowing fora smoother online learning experience
Disposable masks provided for use at your discretion
*If you would like a free Rainbow Rainmate air purifier, please let me know! I can connect you with a sales rep. There is no obligation to purchase anything and you will receive the Rainmate air purifier for free along with your choice of an essential oil blend.