Welcome to the Davis Piano Studio Blog!!
Piano Maestro! Your tool to make practice fun!
Thursday, September 3, 2020 by April Davis | Announcement
Hey y'all! New to the studio this semester is a subscription for all students to Piano Maestro, an app available for iPads only. Piano Maestro turns daily practice into a game--guitar hero style!
I've emailed an invitation to each student. Download the app and sign-up with the same email address the invitation was sent to; or, after signing up with a different email address, pick a teacher by typing my name into the box. I'll show up as April Davis in Round Rock, TX. When students are ready to practice, just set the iPad on the piano or keyboard like you would a music book.
Piano Maestro Sections
There are three sections: Journey, Library, and Home Challenge. Journey is a built-in method book of its own. Students can also pick songs on their own from the library and there are tons of songs including pop, country, classical, and traditional songs to choose from! Home challenge is where weekly assignments show up. This will normally include hand warm-up exercises and their assigned song from the Piano Pronto method book. (Yes! The method book we use is included in the app!!!!)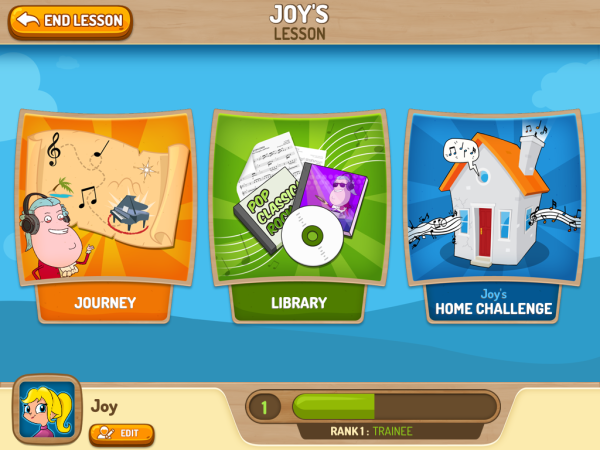 Piano Maestro Library Content
Here's a quick view of the library. You can look at all of the songs or narrow down the selection by choosing a genre and/or a level.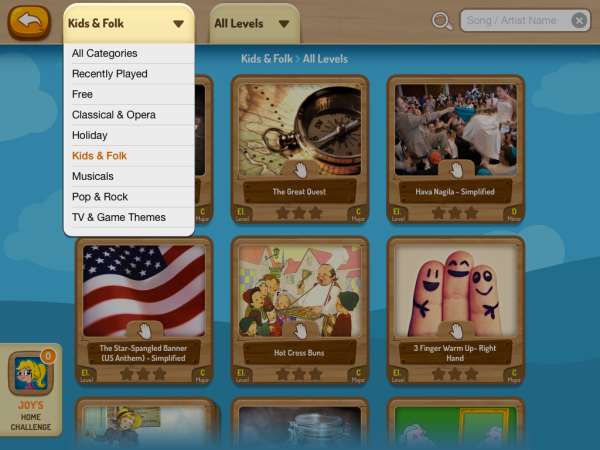 Piano Maestro Home Challenge
When a student views their home challenges, they pick an assignment and select learn. Students can opt to play the keyboard on the iPad screen making this the perfect companion for long car rides, or they can enable the acoustic piano option. The first time they pick the enable acoustic piano option, you'll be prompted the allow the microphone in your iPad's settings. A green key will light up on the app and you play that key on your own piano or keyboard and then the app will progress to the next screen and listen for the notes they play!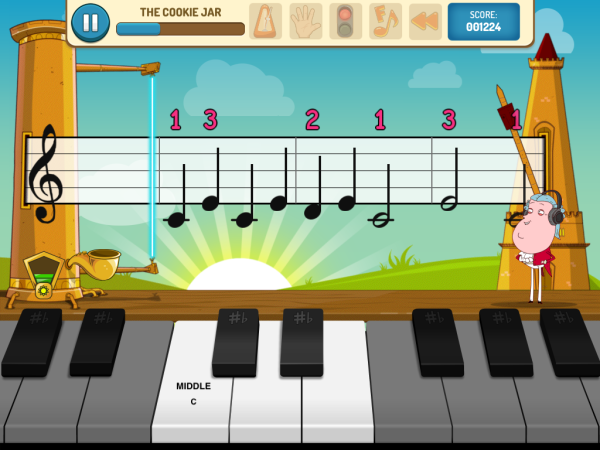 Piano Maestro Gamification
Piano Maestro turns learning into a game! Students play the notes as they get to the blue bar. The app breaks down learning the song into left hand, right hand, and both hand options. It also teaches smaller sections of the song at a time. Students are scored on note accuracy, timing, and assists. If they haven't mastered that section yet, they will get an option to restart. When they have mastered it, they see a next button to progress to the next section! By the time a student completes each section the entire song is learned!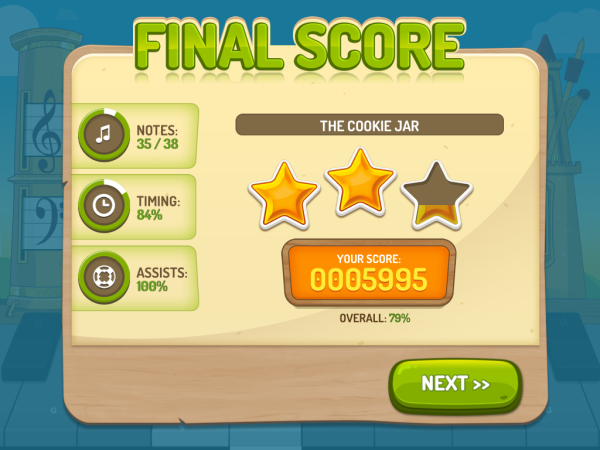 Piano Maestro Student Feedback
Students are loving practice with Piano Maestro!! There's a little bit of a learning curve: reading notes that are moving, playing at a tempo set by the app, accidentally choosing "play" instead of "learn" for a new song. But, these challenges are easily overcome and students are soon hooked! Who doesn't love getting screen time to play a game? Oh, and that game also counts as piano practice time? So fun!!!!!
Piano Maestro Premium Subscription
Davis Piano Studio students have full access to all library items and features because the studio pays for the premium subscription. There will be no accidental purchases while on the app! Happy playing!